Overview of EN1423 Drop on Glass Beads
EN1423 Drop on Glass Beads are made from recycled glass, so the material is environmental, they can give effectiveness and impressive appearance. After dropping onto the road markings made with paint thermoplastic, cold plastic and spray plastic to provide night visibility by retro reflecting the headlight beams in the dark.
The Advantage of EN1423 Drop on Glass Beads
1. High roundness, normally>80%
2. Clear glass material
3. RI>1.5
4. 24 hours of quality control
5. Competitive factory price
6. Increase safety and nighttime visibility
The Specification of EN1423 Drop on Glass Beads
| | |
| --- | --- |
| Diameter (μm) | Standard (%) |
| 850 | 0~2 |
| 710 | 0~10 |
| 600 | 10~30 |
| 425 | 30~55 |
| 300 | 55~80 |
| 180 | 95~100 |
The Application of EN1423 Drop on Glass Beads
1. white road marking line
2. Yellow road marking line
3. Airport Marking
The Production Process of EN1423 Drop on Glass Beads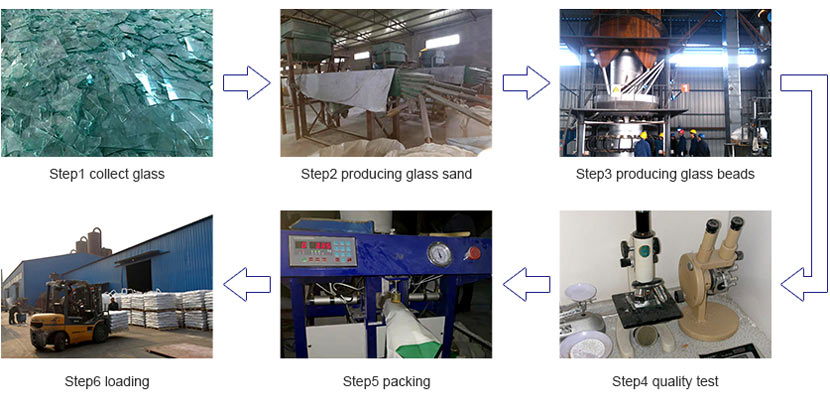 Glass Beads Quality Control:
Good quality Glass beads require the high roundness, high whiteness, less impurity, we are manufacturer, all the production process will be under our control
1. The first step is glass, we have stable glass supplier, they can promise the material quality.
2. The second step is glass sand, we will produce glass sand by ourselves, the size range is important, we have good control over it.
3. The third step is glass beads producing, this part requires a high technician, we have an excellent team worker, they know the process very well.
4. During all the above process, we will keep 24hours checking, to ensure the final products is all the best.
Other Notes of EN1423 Drop on Glass Beads
1. Keep in dry condition, no moisture
2. Package:25kgs bags(PP/paper),or jumbo bag,with pallet.